About Us
Paramount Intercontinental Pvt. Ltd. is a 1997 formed company that is leading in the industry as a manufacturer and wholesaler of premium grade insulation materials. Our collection including Ultra Violet Protective Coating Duct Insulation, Thermo Isolate Pipe Insulation, Reflective Insulation Roll, Water Proofing Foam Sheet and other items, is cost-effective. Years after our formation in 2003, we widened our production capability and started manufacturing chemically crosslinked closed cell Polyethylene insulation materials to promote environmental safety. After this, in the year 2016, we began producing Oxide Acetate Foam for Acoustical and HVAC applications.
Our Mission
To introduce energy saving insulation products for commercial and residential areas at industry lowest prices and delight customers with our professional services.
Our Vision
To lead the industry as the most trustworthy manufacturing company of fine textured and premium quality insulation materials. Also, we work in a manner that our name is well associated by customers with insulation experts of the industry that delivers matchless quality and non-environmental harming products.
Quality & Testing
Our name is always associated with quality because we never deliver anything below premium quality insulation products. We make certain every client is provided with value for money insulation products and delighted to great level because for us their satisfaction is of utmost importance. While producing Ultra Violet Protective Coating Duct Insulation, Thermo Isolate Pipe Insulation and many more insulation products, we adhere to the norms of the industry. A special has been formed at the company to run tests to semi-produced products as a part of quality inspection and controlling plan. Further, tests on every full-fledged produced product are conducted so that clients get flawless products.
Manufacturing Facility
At Sonipat, Haryana (India), we have a huge facility of production built over a land of 1,00,000 sq. ft. We take pride in our Crosslinked PE Foam Sheet Production Lines where we produce 3mm to 10mm of XPE Foam Sheets and Rolls as well as self-adhesive backing pipes and rolls. The most dependable insulation products are produced as per industrial norms within the guidance of industry experts and delivered to customers within committed time frame.
Our Clients
Focus on offering prime quality insulation materials and professional services have made us delight a large number of leading companies in India, some of which are bulleted below:
Dial3
Fortis Hospital
Hyatt Andaz- Aerocity
JLN Commonwealth Stadium
North Block
Makind Pharmaceuticals
Novotel- Aerocity
Safdarjung Hospital
Serum Institute Ltd.
Statue of Unity
High Court- Lucknow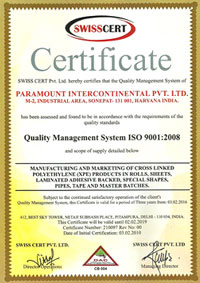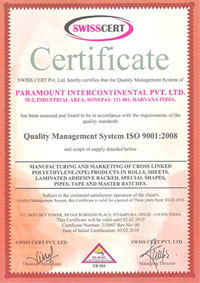 Read More